In this Newsletter Excel Dashboards, Lumia Phones and Recent Office 365 Updates
Its end of Financial Year – Do you need a tax deduction? Purchase a 5-hour block support from us and save $165 on your next lot of support from us. Contact tim@jethromanagement.biz now for details.
Block Support Hours
Our adhoc support cost is $121 inc GST / hour billed in 15 minute increments. For onsite call-outs we charge $143 for the first hour. Pre-purchase a minimum 5-hour block and we bill to closest 5 minute and the cost is only $440 for the 5 hours – saving of $165. Call out surcharges still apply where applicable. See all our rates and charges.
Contact us today if you want to pre-purchase before the EOFY.
Top Ten Tools for Any Startup
I recently wrote an article titled The Top Ten Tools for any Startup. It is relevant to probably all small and medium businesses regardless of their age.
Effectively I recommend the powerful Office 365 Business suite ads the primary productivity tool. Depending on your subscription level you should have access to these major products and if you are not using them you are missing out on some amazing tools.
Exchange Mail, Tasks, People and Calendar – Accessible Online, Outlook for desktop, Mail apps in PC and Mobiles – Includes enterprise features such as unlimited archiving* 50GB mailbox, shared calendars, delegate access to mail, calendar and tasks, shared mailboxes, Out of office messages and much more.
Yammer – enterprise level social network – separate subscription required*
One Drive – 1TB per user of file storage
SharePoint – document management, workflow, mailboxes, external sharing, real time document authoring collaboration and much more
Skype for Business – Professional meetings and collaboration—all integrated with your Office apps. Online meetings, messaging, calls and video with up to 250 people.
Online Office Apps – Excel, Word, PowerPoint and OneNote
Delve – monitors interactions between people and the information they use. It then applies machine learning to these interactions in order to determine what is most relevant. Read more about why Delve should be the centre of your office.
Video – create shared archive of video for your business, available online anywhere. Public or private.
Sway – visually creative online presentations created in minutes with no coding skill required.
Planner – online task management hub – I write more about this below.
PowerBi – extremely powerful way of visually analysing your data from accounting systems, sql servers, excel files, google analytics or many other data sources.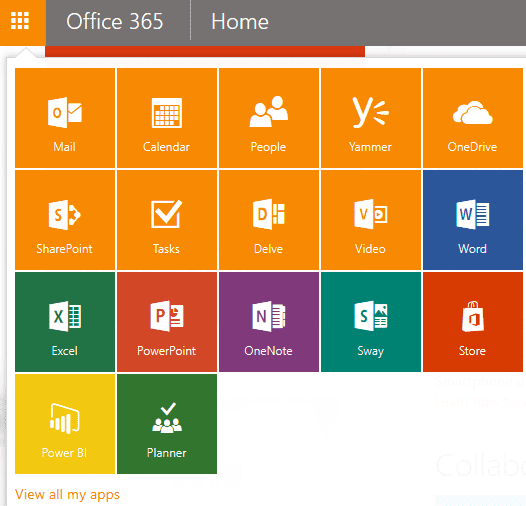 See the full suite of Office 365 products.
*Some features are dependent on the subscription level.
Contact us if you need help configuring or using any of these applications. If you don't have access we can check your subscription level and advise how to upgrade.
Excel Dashboards
A dashboard reporting system is a fantastic way of quickly demonstrating trends in company financial, production or human resource data. Many employees spend hours and sometimes even days a month creating reports like this. I have spent months in some organisations automating these to be generated automatically in order to save valuable employee time.
If you want to create visually engaging dynamic reports like the one pictured, then you need Charley Kyd's Excel Dashboard tool.
I have been an affiliate for Charley Kyd's Excel Dashboard reporting tools for years. If you want to create professional dashboard reports in Excel 2007 and above, then check out his deals.
Contact us today if you need help purchasing or using the Excel Dashboards.
Microsoft Lumia 950 and 950XL Available at Telstra and Harvey Norman

Microsoft's flagship mobile phone the Lumia 950 and 950XL are now both available from Telstra. They have been available at Harvey Norman for over 6 months as well as the Microsoft Store. Right now Harvey Norman have them on a sale, $400 cheaper than when I bought mine!
Contact us today if you want to know more about Business Phones
Follow Us On Social Media
As always Jethro is your web, cloud and technology specialists. I am constantly learning new things and spending time researching, playing and testing new systems and reading about other people in the IT world doing the same thing. If you want to follow along with what I share in various spaces, then connect with me: