Beginning in October 2017, Chrome will show the "Not secure" warning on all contact forms on your website without a SSL Certificate.
Do you have an SSL Certificate
If you don't have an SSL Certificate on your website Google will tell your visitors NOT to use your contact us form, or enter any data on your site.
How?
They will mark your site as insecure inside Chrome.
From the google blog we get this piece of information:
"In January, we began our quest to improve how Chrome communicates the connection security of HTTP pages. Chrome now marks HTTP pages as "Not secure" if they have password or credit card fields. Beginning in October 2017, Chrome will show the "Not secure" warning in two additional situations: when users enter data on an HTTP page, and on all HTTP pages visited in Incognito mode."
With Google Chrome serving over 76% of the worlds browser traffic. that's an impact on your business you CANNOT AFFORD.
Jethro can help you secure your site.
There are lots of different types of secure certificates ranging in price that provide different levels of security, customer information and protection, and also business owner protection in the form of warranties. DO NOT be fooled by the lure of "Free or Cheap Certificates". While you may be able to get away with the lowest level of protection, it may not be the best option for your business.
Regardless of which certificate we assist you to purchase you will still need our technical web admins to complete the installation of the certificate on your website, and then ensure that every page on your website works correctly in HTTPS.
Without a secure certificate from 1st October your site will display this message to customers and visitors your website.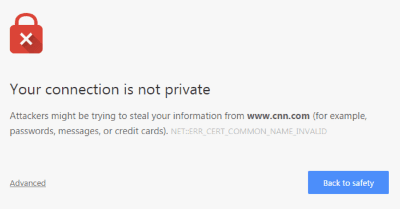 Contact us today to purchase your SSL Certificate and secure your site.